Looking to take your yoga practice to new heights?  Well, leave it to the folks in Sin City to make that possible. Now you can get your zen on from high above the Las Vegas Strip, aboard the Las Vegas High Roller Observation Wheel at LINQ Promenade.
The world's tallest observation wheel, The High Roller, features 28 glass-enclosed cabins offering sweeping (or terrifying, depending on your perspective!) views of the Las Vegas Strip and skyline.  A whopping 550 feet tall–equivalent to a 55 story building–it beats out both the London Eye and Singapore Flyer in height.
A new yoga concept, Silent Savasana, debuted last month aboard the sky-high observation wheel.  What makes it different?  Participants listen to instructions and music through headphones, helping yogis get "in the zone" and giving the illusion of a private yoga session.  Each glass cabin holds an instructor, and up to six guests.  Sessions are 1 hour long, or two full 30 minute wheel rotations.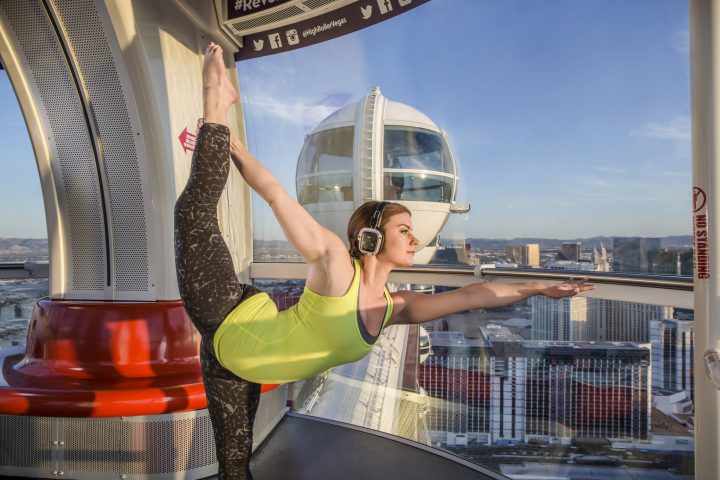 Guests are advised to book at least 24 hours in advance and should check in at the Charter Groups Entrance of the High Roller. Sessions are available seven days/week from 11:30 a.m. to 5 p.m. for $75.00 per person. A premium sunset option is available Monday through Wednesday for $85 per person. Private one-on-one yoga sessions are available at $250 per person or $300 for a couple. Five sessions can be purchased for $325 per person.
Interested in a more decadent spin? Pods are available for private parties as well.  Invite up to 40 of your best friends for a revolution or two–complete with a private bar!  Also available for Bachelor/Bachelorette parties and weddings.